Regular Visits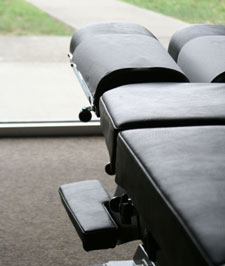 Unlike the first two visits, the typical office/adjustment visit doesn't take long. We take pride in running on time, so if you're on time we won't make you wait.
Once you've signed in, you'll come back to the adjusting room. Typically, the doctor will ask , 'What's new?". That's your cue to let him know anything new in your life that might impact your care – a new injury, diet or exercise program, for example.
The Focus is You
The focus here is you – your life, your health and your response to your care. The doctor will perform a few quick pre-adjustment tests and then he'll adjust you.
Depending on your needs, the adjustments may be similar or vary visit to visit.
After a quick post-adjustment check, you'll head back to the front desk where Janet will verify your next appointment and any financial/insurance information with you and you're done for the day.
Typical adjustment visits last about ten minutes.
---